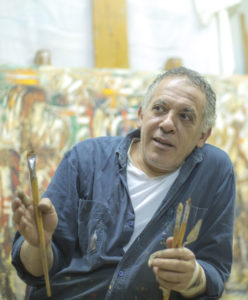 Rifky ElRazzaz – رفقي الرزاز
فنان مصري ولد عام 1958 ثم تفرغ للفن منذ تخرج في كلية التربية الفنية بجامعة حلوان عام 1982، يقيم بقاهرة المعز التي تعتبر مصدر إلهامه ووحيه الفني بمبانيها وحضارتها المصرية العريقة. تتسم أعمال رفقي الرزاز بالتجريد الناعم والخطوط الهندسية ثنائية الأبعاد أحيانًا كأنها نقوش المصري القديم على جداريات المعابد في عراقتها وجمالها.
شارك الفنان في العديد من المعارض الفردية والجماعية في مصر وخارجها وله مقتنيات في العديد من المتاحف وكذلك في مقر اليونسكو. وهوعضو لجنة الفنون التشكيلية بالمجلس الأعلى للثقافة منذ عام 2014.
An Egyptian artist, born in 1958. He graduated in 1982 from the Faculty of Art Education at Helwan University and is currently based in Cairo where he seeks inspiration from its landscape and ancient history to produce large paintings of subjects derived from Ancient Egyptian art.
Rifky ElRazzaz is a member of the commission of Fine Arts, Supreme Council of Culture. His work can be found in the headquarters of UNESCO, and has been exhibited both in Egypt and abroad many times.
---
Exhibition III – Cradle of Charm – 2019
---
---
Exhibition I – The Spirit of Civilization – 2015
Other Artworks