Ubuntu Art Gallery opened its doors in October 2014 and specializes in contemporary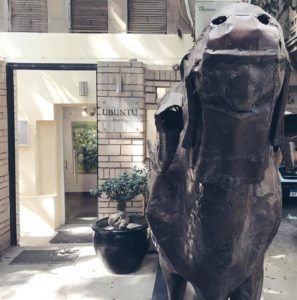 Egyptian artworks and secondary market modern Egyptian art. The gallery was founded by Ahmed El Dabaa.
The gallery's mission is to promote both young emerging talent, and artists with more established practices both regionally and internationally. The gallery derives its name from the Swahili word "ubuntu" which means "I am because we all are," to connote a holistic concept of being. At Ubuntu Art Gallery, a belief in the interconnectedness of how Egyptian history and society influences Egyptian identity is at the core of the work presented by the gallery.
Ubuntu runs a program of bimonthly exhibitions so as to showcase work and introduce new artists frequently. With one gallery in the Zamalek neighborhood, Ubuntu also exhibits in several satellite locations including the Swan Lake Clubhouse in the suburb of New Cairo.
Ubuntu also provides art consultancy services.
.