Amira Husny – أميرة حسنى
ولدت أميرة حسني عام ١٩٨٨ ثم حصلت على بكالوريوس الفنون التطبيقية قسم الخزف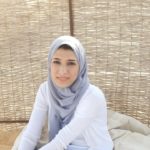 عام ٢٠١٠. شاركت في العديد من المعارض على المستوى المحلي منها صالون الشباب في دوراته عام (٢٠١٥ – ٢٠١٦ – ٢٠١٨) ومعرض الطلائع عام ٢٠١٥ وورشة الخزف في معهد جوته الأقصر ٢٠١٨. كما شاركت الفنانة في بعض المعارض الدولية مثل معرض الحلي الخزفية في تركيا عام ٢٠١٨ وورشة الخزف بمهرجان الشباب في روسيا عام ٢٠١٧.
حصلت أميرة على جائزة الفنان سعيد الصدر وذلك عام ٢٠١٨
Born in 1988, Amira Husny graduated from the faculty of applied arts, ceramic department in 2010. She was awarded the Saeed el Sadr prize in 2018 and has participated in several exhibitions including; Youth Salon (2015 ,2016, 2018), Al Talaee (2015), Ceramic Forum World Festival of Youth (Russia 2017), Seres'18 ceramic Jewelery Exhibition (Turkey 2018) as well as participated in the ceramic workshop held in Luxor by the Goethe Institute (2018).
---
Group Exhibition – The Circle – 2020