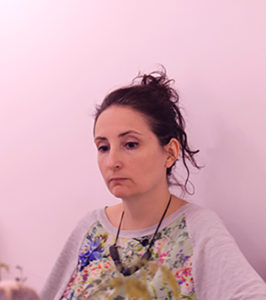 Anita Toth – أنيتا توت
أنيتا توت، خزافة ومرممة خزف محترفة بدولة المجر، ولدت في بودابست عام ١٩٧٣. تخرجت أنيتا من قسم السيليما في جامعة "موهولي نادجّ" للفنون والتصميم في بودابست عام  ٢٠٠٨، وحصلت على منحة إيراسموس في أيرلندا عام ٢٠٠٥
كثيراَ ما تتأثر أعمال توت بالهشاشة التي تصادفها في الطبيعة وفي النفس الإنسانية، وعادةَ ما يظهر فيها التأثر الشديد بالتقنية الخزفية الخاصة المعروفة بإسم الطينة الورقية
شاركت في أكثر من ثماني ورش عمل وندوات دولية بالمجر؛ كما شاركت في العديد من المعارض الدولية الفردية والجماعية في عدة دول مثل اسبانيا والمجر وتركيا وصربيا وفرنسا وسلوفينيا ومصر. شاركت توت في عام ٢٠٠٨ في بينالي الخزف الوطني في بيتش، المجر. كما حصلت على الجائزة الثالثة في الدورة رقم ٣٠ من بينالي ألكورا الدولي للخزف، في اسبانيا عام ٢٠١٠
شاركت مع الفنان المصري خالد سراج في معرضين في قاعة أوبنتو في القاهرة: "ماعت تتلون" في عام ٢٠١٥ و "سوياَ" في عام ٢٠١٨
Anita Toth is a ceramist and porcelain restorer based in Budapest, Hungary. Born in 1973, she graduated from the Silicate department of the Moholy-Nagy Univeristy of Art & Design in Hungary in 2008. In 2005, Toth was awarded the Erasmus scholarship in Limerick, Ireland.
Inspired by the fragility of nature and human characters, Toth's work is mostly influenced by a very fragile technique in ceramic forming called paper clay.
Anita has participated in several international solo and group exhibitions in many countries such as Spain, Turkey, France, Slovenia, and Egypt. She participated in the National Ceramic Biennale in Pecs, Hungary in 2008, the first International Ceramic Triennial UNICUM in Ljubljana, Slovenia in 2009, and in the 30th International Ceramic Competition in Museu de Ceramice de l'Alcora in Spain in 2010 where she was awarded the 3rd prize. She has taken part in over 8 international workshops and symposiums in Hungary.
Her work has been exhibited in two exhibitions in UBUNTU art gallery in Cairo alongside Egyptian artist Khaled Sirag: "Ma'at Changing Colors" in 2015 and "Together" in 2018.
---
Exhibition II – Singularity – 2021
---
Exhibition I – Together – 2018