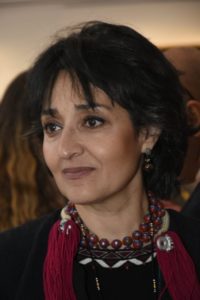 Dina AbdelNabi – دينا عبد النبى
تخرجت دينا عبد النبي من الجامعة الأمريكية بالقاهرة عام ١٩٨٤ وحصلت على بكالوريوس الأنثروبولوجيا، وفي عام ١٩٨٥ قامت بالتدريب تحت رعاية ليليان كرنوك بمدرستها للفن بمتحف د.حسن رجب، و تحت إشراف د.شوربجي متولى، د.رضا عبد السلام، و الفنانة إكرام عمر. درست بعد ذلك التصوير الفوتوغرافي في معهد TAFE  باستراليا عام ١٩٩٠ كما أعقبته بدراسة  التصميم الداخلي بإستراليا أيضًا عام ١٩٩١ ثم التحقت بأكاديمية د. مصطفى الرزاز للفن في يناير ٢٠١٤ ومازالت الفنانة مستمرة بها إلى الآن.
شاركت دينا عبد النبي في العديد من المعارض الجماعية مثل معرض القط وسبع أرواح عام ٢٠١٥ بجاليري قرطبة، وصالون الجنوب الدولي الخامس بكلية الفنون الجميلة بالأقصر عام ٢٠١٧ وصالون أبيض وأسود الرابع عام ٢٠١٧ وصالون الخريف في باريس عام ٢٠١٩. ولها معرض فردي في مارس ٢٠١٩ تحت عنوان "مريم" بمركز الجزيرة للفنون. للفنانة مقتنيات خاصة وكذلك في متحف الفن المصري الحديث بدار الأوبرا المصرية.
Graduated from The American University in Cairo with a degree in Cultural Anthropology in June 1984. She earned an internship at Ragab Summer Art School under the supervision of Liliane Karnouk, Reda AbdelSalam, Shourbagy Metwally and Ikram Ammar in 1985 and studied Photography in 1990 followed by interior design in 1991 at TAFE College, Australia. In 2014 she enrolled at Dr Mostafa ElRazzaz Acadamy of Art where she currently continues to study.
Dina AbdelNabi has participated in many group exhibitions such as "the Cat and Seven Spirits" Cordoba Gallery (2015) , the Fifth "International South Salon" in the Faculty of Fine Arts, Luxor (2017) and the fourth "Black and White salon" (2017) and "the Fall Salon" in Paris (2019). She also held a solo exhibition titled "Maryam" at the Gezira Arts Center (2019). Her work is held in private collections as well as in the Museum of Egyptian Modern Art at the Egyptian Opera House.
---
Exhibition – Thin Red Line – 2020