Hassaan Ali – حسان علي 
ولد الفنان حسان علي أحمد في وادي حلفا بجنوب السودان وتخرج في كلية الإقتصاد والعلوم السياسية، جامعة الخرطوم عام 1976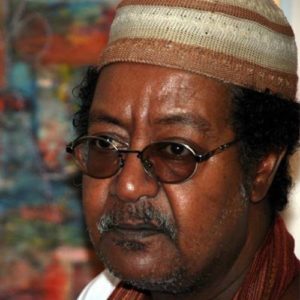 حصل على دبلوم التخطيط الثقافي من معهد التخطيط القومي بالقاهرة عام 1986 ثم دبلوم الرسم التوضيحي من منظمة اليونسكو – طوكيو باليابان وذلك عام 1988
شارك الفنان حسان علي في العديد من المعارض الجماعية والفردية في بلدان عدة كالسودان ومصر وأسبانيا وألمانيا وجوهانسبرج جنوب أفريقيا. كما شارك أيضًا في بينالي الحفر في باريس. وكانت له مشاركة متميزة في معرض رسامي كتب الأطفال العرب بمعهد العالم العربي في باريس – فرنسا
صدرت للفنان خمس كتب للأطفال من دار نشر جرانديير" Grander" سنة 2000 ومن دار نشر ليريبل "Lirabelle" في فرنسا عام 2003 وكذلك مركز الدراسات السودانية
حاز الفنان حسان علي على جائزة التميز في بينالي القاهرة الدولي عام 2007
Hassan Ali Ahmed, born in Wadi Halfa – South Sudan, received a BA in Economics and Political Science from the University of Khartoum in 1977. He holds a diploma in cultural planning from The National Planning Institute in Cairo, Egypt, 1986 and another in Illustration from UNESCO, Tokyo, Japan, 1988.
Hassaan Ali has participated in several solo and group exhibitions in several countries including Sudan, Egypt, Spain, Germany and South Africa.
He has five children's books to his name by multiple publishing houses such as Lirabelle, France, 2003 – Grander, 2000 and The Sudanese Studies Centre, 1995.
He was also the recipient of the Excellence Award at the Cairo Biennale in 2007.
---
Exhibition I – Hassaan Ali – 2018
---
Other Artworks