Khaled Zaki – خالد زكي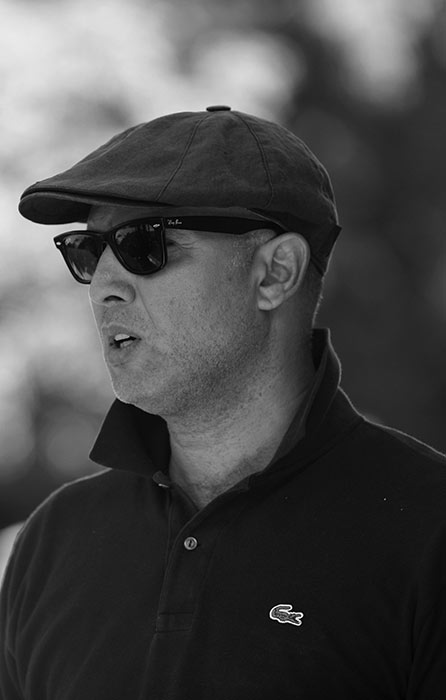 ولد بمدينة السويس بمصر عام ١٩٦٤، وحصل على بكالوريوس الإدارة من كلية التجارة جامعة القاهرة. ثم درجة الماجستير في الترميم من كلية الآثار. درس فن النحت في متحف الخناني للفنون بالجيزة، وأتقن استخدامه للحجر بإيطاليا Pietrasanta Lu والبرونز في ورش العمل المتعددة في
فاز خالد زكي بالمسابقة الوطنية في تصميم وتنفيذ نحت ميداني ضخم في ميدان الجلاء بالقاهرة عام ٢٠٠٠، كما فاز بجائزة " الفنان الدولي – International Artist prize " من تايبيه – تايوان عام ٢٠١٥
ظهر تأثير الثورة المصرية في يناير ٢٠١١ جليًا على أعماله وأسلوبه الفني حيث انتقل من التجريد الخالص إلى المزج بين الإنسان والتجريد معًا، فتمكن من التعبير عن مشاعره وأحلامه بشكل واضح وصريح من خلال شخصياته المختلفة التى تخرج من المجتمع المصري بشكل خاص والعربي بشكل عام.
يظهر شغفه بالفنون المصرية القديمة وفنون البحر المتوسط، وكذلك اهتمامه بيوم البعث بشكل ملموس في تقنيات وتصميمات وألوان تماثيله وكتلتها وأعماله الفنية على تنوعها واختلافها.
شارك في العديد من المعارض العالمية والمحلية، وله مقتنيات في متحف الفن المصري الحديث بالقاهرة، وكذلك المتحف المصري للنحت الحديث بأسوان في مصر. وله مقتنيات لدى العديد من الأفراد في الولايات المتحدة، بلجيكا، إيطاليا، ألمانيا، أيرلندا، المكسيك، الكويت، الإمارات والسعودية
حاز مؤخراً على شرف تمثيل وطنه مصر في بينالي البندقية عام ٢٠١٣
Born in Suez, Egypt in 1964, sculptor Khaled Zaki holds a Master in Restoration from the Faculty of Archaeology and a Bachelor in Management from the Faculty of Commerce at Cairo University. Zaki studied Sculpture at the Al Khonany Museum of Art in Giza and perfected his use of stone and bronze in the various workshops in Pietrasanta Lu, Italy.
In 2000, he won a national competition for the design and execution of a monumental sculpture in Galaa Square, Cairo. And in 2015, he won the "International Artist prize" from ART, Taipei – Taiwan.
During the Egyptian revolution of January 25th, his works had been clearly moved from abstract to a mix between figurative and abstract where the artist in his style could capture and express the feelings, dreams, and expectations of human in general and over all the today Egyptian and Arab society.
Zaki's passion for the ancient Egyptian and Mediterranean arts and his deep concern about the resurrection subject can be touched in the forms, techniques and colors of his sculptures.
Zaki has participated in global exhibitions and symposiums. His work can be found at the Egyptian Museum for Modern Art, Cairo, and The Egyptian Museum for Modern Sculpture in Aswan, as well as private collections in the United States, Belgium, Italy, Germany, Ireland, Mexico, Kuwait, UAE and KSA.
He recently held the honor of representing his homeland in the Egypt Pavilion of the 2013 Venice Biennale.
---
Exhibition I – The Return – 2018
---
Other Artworks