Nevine Farghaly – نيفين فرغلي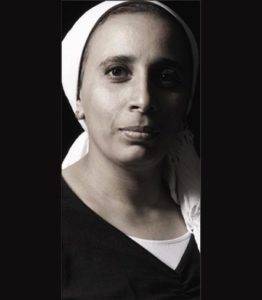 فنانة مصرية تخرجت في كلية الفنون التطبيقية جامعة حلوان عام ١٩٩٧، وحصلت على درجة الماجستير في عام ٢٠٠١ ثم درجة الدكتوراه عام ٢٠٠٧ من جامعة حلوان، وحاليًا تعمل كأستاذ تشكيل في الفراغ بنفس الكلية
أعمال الفنانة هي عبارة عن منحوتات لشخصيات وحيوانات وأجسام ذات حركة ميكانيكية. يغلب على أسلوبها الفني البساطة والتلقائية مع لمسة جمالية مميزة ووعي فني شديد بالخامة المستخدمة
تتنوع أحجام المنحوتات التي تقدمها نفين فرغلي بين الصغير الذي يحتوي على العديد من الأجزاء الدقيقة المعقدة، وبين القطع الكبيرة والتركيبات المعدنية المتداخلة بأحجام تقارب الحجم الطبيعي للإنسان. سواء كان هذا الحجم أو ذاك؛ فإنك ترى مهارة فنية وتقنية في جميع أعمالها
شاركت نفين فرغلي في العديد من المعارض في مصر وخارجها؛ بما في ذلك بينالي بكين عام ٢٠١٧ وبينالي فينيسيا عام ٢٠١٠
Nevine Farghaly is an Egyptian artist. She holds a Bachelors degree from the Faculty of Applied Arts (1997) as well as both a master's degree (2001) and a PhD (2007) from Helwan University where she is currently a professor.
Farghaly produces work on various scales, small works that include tens of intricate pieces are not too dissimilar from her larger often life size installations of metal parts. She focuses on producing sculptures that include figures and animals as well as sculptures with mechanical movement.
Farghaly has taken part in many exhibitions both in Egypt and abroad including the Venice Biennale in 2010, and the Peking Biennale in 2017.
---
Exhibition III – Laughter X Play – 2020
---
Exhibition II – There's Still Time to Play – 2018
---
Exhibition I – Life in Motion – 2016
---
Other Artworks