Sarah El Samman – سارة السمان
فنانة مصرية من مواليد 1983 ، حصلت على درجة البكالوريوس في الفنون البصرية من الجامعة الأمريكية في القاهرة. عملت في مجال التصميم الداخلي لعد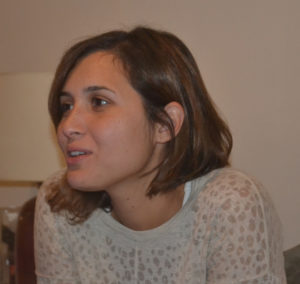 ة سنوات قبل دراستها المتخصصة للفن على يد الفنان المصري مجد السجيني حتى عام 2015
تستوحي السمان إلهامها من البيئة المحيطة بها ومن تفاصيل الحياة اليومية المرئية في القاهرة وشوارعها والطاقة المنبعثة منها على اختلاف حالاتها. تستخدم سارة السمان خامات مختلطة ووسائط جديدة لتخدم فكرتها وتعبر عنها بحرية شديدة من خلال العناصر المتداخلة والطبقات المتعددة بشكل غير مألوف يجذب المشاهد
شاركت السمان في العديد من المعارض الجماعية المحلية. وهذا هو معرضها الجماعي الثاني في قاعة أوبونتو
Born in 1983, she received her BA in visual arts from the American University in Cairo. She then worked in the field of interior design for several years before studying under the guidance of renowned Egyptian artist Magd El Sagini until 2015.
El Samman draws inspiration from the many surfaces and textures of her everyday surroundings capturing the energy and character of living in Cairo. Through the use of mixed media, El Samman is able to freely explore the overlapping elements recreating these familiar forms in an abstracted patchwork of surfaces. Her work is often chaotic and layered finding beauty in what is often overlooked.
El Samman has participated in various local group exhibitions; this is her second group exhibition at Ubuntu Art Gallery.
---
Group Exhibition – A Flower from Every Meadow -2018