Taher Hamouda – طاهر حمودة
ولد الفنان طاهر أحمد عبد الله حموده في محافظة الغربية بمصر عام ١٩٨٧. حصل على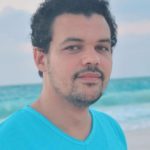 بكالوريوس الفنون الجميلة قسم الجرافيك سنة ٢٠٠٩، ثم حصل على درجة الماجيستير من جامعة الأسكندرية عام ٢٠١٤ وبعد ذلك نال درجة الدكتوراة في فلسفة الفن من نفس الجامعة عام ٢٠١٨. يعمل طاهر حمودة كمدرس بقسم الجرافيك كلية الفنون الجميلة جامعة الإسكندرية
شارك الفنان في العديد من المعارض الفردية والجماعية منها معرض أجنده بمكتبة الاسكندرية عام ٢٠١٢ ،٢٠١٣، ٢٠١٤، ٢٠٢٠ ومعرض شخصي بكلية الفنون الجميلة قسم التصميمات المطبوعة بالأسكندرية ٢٠١٤ وكذلك معرض بالسفارة المصرية بمدينة فيينا بدولة النمسا عام ٢٠١٦ والمعرض العام ٤٠ بمتحف الفن الحديث بالقاهرة ٢٠١٨ ومعرض شخصي بجاليري نقوش بالقاهرة ٢٠١٩ وغيرها
حصل الفنان طاهر حمودة على المركز الأول في مسابقة الفنون التشكيلية بجامعة جنوب الوادي عام ٢٠٠٩ وللفنان مقتنيات بمتحف الفن الحديث بالقاهرة ووزارة الثقافة المصرية وجامعة جنوب الوادي وكذلك لدى أفراد داخل وخارج مصر
Taher Ahmed Abdullah Hamouda is an Egyptian artist, born in Gharbia Governorate, Egypt 1987. He holds a Bachelor's degree in Graphic Design, Faculty of Fine Arts (2009), a Master's degree (2014) and a PhD in Philosophy of Art (2018) from the University of Alexandria university, where he currently teaches in the Graphic Design Department.
He has participated in several solo and group exhibitions, including "Agenda" at Bibliotheca Alexandrina (2012 – 2020), a solo exhibition at the Faculty of Fine Arts, Department of Printed Designs in Alexandria (2014), the Egyptian Embassy in Vienna, Austria (2016),  the 40th year exhibition at the Museum of Modern Art,  Cairo (2018), and a solo exhibition at "Nokoush Gallery", Cairo (2019).
Taher Hamouda, was awarded first place in The Fine Arts competition, South Valley University (2009) and several of his artworks are displayed at the Museum of Modern Art in Cairo, the Egyptian Ministry of Culture and South Valley University, in addition to private collections inside and outside Egypt.
---
Group Exhibition – The Circle – 2020